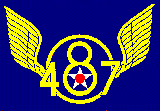 487th Bomb Group (H)
Station 137 - Lavenham, Suffolk, UK
22-Sep-43 to 7-Nov-45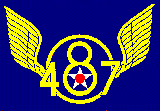 ---
A PIECE OF THE ACTION
by Bob Holliday (continued)
Combat Crew Training
After some leave I found myself in Ardmore, Oklahoma where I became copilot on a real B17 crew. My pilot was a former P38 instructor and another natural pilot, Jack Fishman (later Jack Stanley). My navigator was Norman Andrew and my bombardier was Chuck Klingensmith. I also remember Harold Rector, engineer, and Joe Maurer, radio operator. Then there was waist gunner Harold Hill, tail gunner Roland Van Nostrand, and another gunner, Melvin Englsebe.
I don't know why I have to tell you all my faux pas, guess I just want you to know I was only human. This one was a dilly. I had just met Jack and we were about to take my first B17 flight along with an instructor pilot. I had had no experience with chest pack chutes, so I proceeded to pick mine up vigorously—by the red handle. Naturally the chute popped out and made a big pile of silk for everyone to see. Redfaced, I was given another chute. Fortunately, my first landing in a B17 was so smooth that the instructor complimented me. I don't think I ever made another landing that good. The rest of my stay at Ardmore was routine—a lot of flights to practice formation flying, bombing, even air-to-ground gunnery. One time we were flying at low altitude to check our compass and another B17 came at us on the same course and at the same altitude. Our combined speed of 300 mph didn't give us much time to turn off, but we both correctly turned right. You learn to live with little incidents like that.
Flying Over
Before long we were in Kearney, Nebraska to pick up a new B17, check it out, and fly it to Ireland. We lavished a lot of care on good old "097," for that was the last part of her tail number. We checked out everything and had her put into perfect order. Then we took off for individual flights to Bangor, Maine. One new B17 crashed into a mountain and I'll never know why.
From Bangor we flew our B17 on to Gander, Newfoundland. Meanwhile, we had been issued leather jackets, watches, and forty-fives and really began to feel like combat crewmen. Before long we were poised at the end of the runway, ready to take off for Nutts Corner, Belfast, Ireland. No radio silence had been ordered yet and we were trading banter with McNamara's Band, another B17 crew, as we skimmed through our takeoff check list.
Out over the Atlantic it was growing darker; in fact, our lights blinked and the radio faded as our electrical system began to fail. Jack asked Andy to plot an emergency course to Iceland. Then we reviewed the takeoff check list more carefully and, sure enough, during all that camaraderie we had forgotten to flick on our generator switches. Things soon came back to life. Later, with the crew asleep, Jack decided to turn on the carburetor heat and triggered the crew alarm by mistake (it was dark in the cockpit). It was my job to go back and tell the crew, now white-faced and lined up to bail out, that it was only a mistake. I'm afraid we didn't bolster much confidence or develop much self-esteem on that flight, but at least we would never make those mistakes again.
When sunrise came, 1 was at the controls as everyone else slept. What a glorious feeling that was after having gone through all the cadet training and other preparation; we were really on our way to the great adventure at last. A few hours later we were landing in Belfast. The flight from Gander had taken more than 12 hours.
continued...
Go to Part Four of "A Piece of the Action"