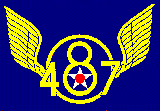 487th Bomb Group (H)
Station 137 - Lavenham, Suffolk, UK
22-Sep-43 to 7-Nov-45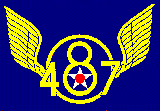 Consolidated B-24
"Liberator"
---
In 1938, the U.S. Army Air Corps requested that the Consolidated Aircraft Company design a heavy bomber that would exceed the performance capabilities of the
B-17 "Flying Fortress"
. The result was the Consolidated Model 32, a high-winged, four-engine bomber with twin vertical stabilizers. The new design, which incorporated the high lift Davis wing, was so promising that the Air Corps ordered 7 prototypes before the first was built, and then ordered 38 production models before the prototype flew.
The B-24 had model variants from the A model through the M model. The biggest changes came with the B-24C, which added top and tail turrets, and with the B-24G, which saw the addition of a power turret to replace the handheld twin .50 caliber machine guns in the nose. The J model was the variant produced in the largest quantity. Of the staggering 18,188 Liberators built, 6,678 were Js.
While the Liberator didn't have the same ability as the Flying Fortress to absorb enemy fire, it did what it was designed to do - it took the war to the Axis Powers and it flew faster, farther and with a larger bomb load than the Flying Fortress.
Wing span: 110 feet
Length: 67 feet, 2 inches
Height: 18 feet
Engines: 4 supercharged, 1,200 horsepower Pratt & Whitney R-1830-65
Top speed: 290 mph at 25,000 feet
Cruise speed: 215 mph
Range: 3,700 miles
Service ceiling: 28,000 feet
Empty weight: 36,500 pounds
Gross weight: 56,000
Maximum fuel load: 3,614 gallons
Crew: 10 (pilot, co-pilot, navigator, bombardier, engineer, radio operator, 4 gunners)
Maximum bomb load: 8,800 pounds
Defensive armament: Twelve .50 caliber machine guns with 5,200 rounds of ammunition